Big Orange Sunday (shortened): 4.30.2017
Mid Day 180 Athletic Director Segment: 1.18.2017
Football Saturday: Championship Saturday – 12.03.2016
Big Orange Sunday: Kentucky – 11.13.2016
Big Orange Sunday: Tn. Tech – 11.06.2016
Bog Orange Sunday: South Carolina 10.30.2016
Big Orange Sunday: 10.23.2016
Big Orange Sunday: Alabama 10.16.2016
Big Orange Sunday: A&M 10.09.2016
Big Orange Sunday: Georgia 10.2.2016
Big Orange Sunday: Florida Gators 9.25.2016
Big Orange Sunday: Appy State Lessons – 9.04.2016
No BOS – 8.07.2016
Bib Orange Sunday: .08.17.2014
Doug's Interview with John Chavis, 06.07.2014
Doug's interview with David Cutcliffe 05.31.2014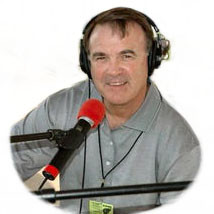 Big Orange Sunday, 05.11.2014
Football and basketball recruiting updates.
Sports Saturday: Part I, 05.10.2014
Sports Saturday: Part II, 05.10.2014
Doug talks with Tony Barnhart about the draft and SEC teams. Coach Phillip Fulmer joins the show and he and Doug announce Coach to Coach radio show starting this fall to air statewide.
Big Orange Sunday, 04.27.2014
Doug talks a lot of basketball, starting off the top with new head coach Donnie Tyndall. Bill Justus follows up, talking both Tyndall's hire and putting a final bow on the 2013-14 season.
Big Orange Sunday, 04.20.2014
Big Orange Sunday from Easter 2014.
Big Orange Sunday, 04.13.2014
Doug breaks down the state of the Vols after the orange and white game.
Big Orange Sunday, 04.06.2014
Doug shares more notes from spring practice, continuing to focus on UT's newcomers. Vol For Life coordinator Antone Davis checks in to spotlight an alumni game to take place at halftime of the Orange and White Game, then Bill Justus continues his wrap-up of the Vol basketball season.
Big Orange Sunday, 03.30.2014
Doug starts with spring football, then digs into basketball. Courtney Lyle of Knoxville's WBIR looks ahead to the Lady Vols' Sweet 16 battle with Maryland, then Bill Justus talks about the men falling to Michigan.